What better way to show your brand than through art and unique design.
We design and install art to reflect your vision to the world.
Designing and Painting Custom Signage, Sculptures, Portraits, and More.
LeBonheur Children's Hospital Emergency Department. We wanted to create a space of peace and tranquility for incoming patients.
Please click the arrow button to the right to view the next pages. 
It all started in 1993…
Davey Studios is a Tennessee based company that provides "concept to creation" sculptures and custom murals. 
We design and create art pieces that complement and showcase your company, your school, your home or your business. We enjoy making life more "en-JOY-able".
Signs speak. They tell your customer who you are. Handpainted signs lend an air of authenticity, uniqueness, and integrity.
Specializing in sculptures that are eye-catching, impressive and often interactive. We love a challenge!
Whether it is creating art that is relaxing, or representative of your story, all of our custom art pieces are as special as you are! 
Painting large grass paintings are just that! Painting on the grass to showcase special events, these paints do not harm the grass; but provide an instant and grand art piece.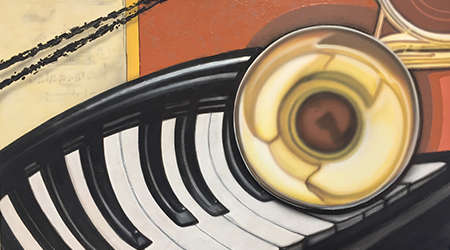 What better way to show the world YOUR vision than through Art and Unique design. We design and install art to reflect your vision.
No concept is too complex. 
~We Can't Wait to Work with You~
Memphis Zoo Dinosaur Exhibit
We built a twenty foot tall custom concrete entrance to the dinosaur exhibit at the Memphis Zoo with obelisk sculptures and fossils.
With fossils seemingly carved into the walls…
This concrete sculpture wall is truly one of a kind. 
Memphis Zoo, LeBonhuer Children's Hospital, Wonders of Wildlife Museum, Methodist Hospitals, Memphis Libraries, Nike, Nascar, Snap-on Tools, O'Reilly Auto Parts, Budweiser, Michelob, Pepsi, Bass Pro, Capitol Records, Warner Brothers, Urban Art Commission, Horseshoe Casinos, Indianapolis Raceway Park, Brainerd International Raceway, Vesta Home shows, Dynamic Technology, Faxon Gillis builders, in addition to a multitude of public and private schools
Since 1992, Mark and Megan have painted murals and designed custom branding for clients all across the United States. In addition to murals, we also build custom sculptures and create beautiful canvas wrapped paintings designed especially for your space. Our hand painted murals, lettering and signage lend refinement and authenticity to your brand and message. Here are a few examples of our work.
We look forward to hearing from you!
"If you want an original, one of a kind, professional piece of art, Davey Studios is your destination. I am so proud of the projects that we own."
"Amazing Folks with Amazing Talent!"